Hunters English
Springer Spaniels
Breeder of English Springer Spaniels
Testimonial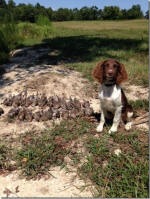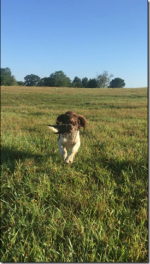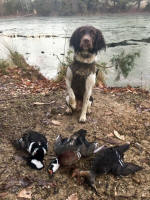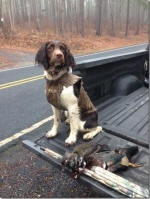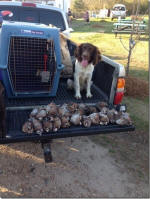 May 01, 2017
Hey Don,
Here are some pictures and a short video of Tanasi from the ages between 4 months to 10 months old and he's from Blue Willow and Baby Riley. His first hunt was at 4 months old, and he retrieved 23 doves that day. If he wouldn't have retrieved everything in these pictures. I wouldn't have taken the pictures or called to brag on my dog. I am very pleased with where he is at right now. He really impressed me this season, and I do plan to keep working him through the summer. I hope you like the pictures. Contact me anytime you feel like it. Either way I plan to stay in touch with you, possible about a future pup.
Thanks,
Cody Moore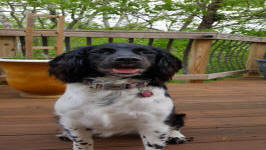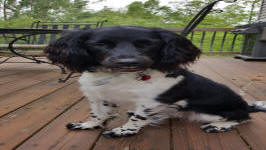 May 03, 2017
Hi Don,
I wanted to reach out to you on Maudie's first birthday. (She's one of Pepper's puppies.) We absolutely love our girl. Her personality is fun and energetic. She loves to run, swim, and chase down squirrels and rabbits. We cannot imagine our life without her, so we thank you for making it possible. Please enjoy the pictures below.
All best,
Patricia Hoar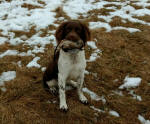 Monday March 06, 2017
Hi, Hank is doing very well, he has started retrieving birds to hand and doing a wonderful job. He doesn't always want to bring them back but he does. They will be starting to work with him on quartering this week.
Thanks,
Barb Lambie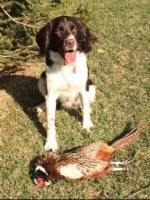 Sunday, February 19, 2017 7:54 AM
Don,
Just writing to let you know that Archie, from your July 19 litter, went on his first hunt today. He flushed 4 chukars and 1 pheasant on a local hunting preserve. He makes a good family dog and has the drive to hunt. Thanks again for being a respectable breeder.
Ana and Randy Kitts
Springfield, Ohio


Thursday, November 24, 2016
That's Savage on the left at seven months, just last weekend. He was part of the second place 2 dog team at the 1st annual Genes classic hunting tournament, I can speak from experience Don breeds some of the best springers out there. Not a great pic but that's Savage at 6 months old we picked up from Don with his first solo rooster and quail.
Corey Cosper

Tuesday, October 11, 2016
Hi Don,
This is Joe Najm, we got Blaze from you last November. Attached photo of Blaze, took first place in a field trial Puppy category. He is one awesome dog. He found, flushed and retrieved 2 birds right to the hand. I will be putting him in more competitions and keep you posted. What a dog...so easy to train he is making me look great.
Thanks for a great breed
Joe Najm

September 15, 2016
Don,
Just thought I'd share a picture of Wyatt with you. He is becoming quite the flushing dog and we have killed 60+ pigeons over him in the past month or two. Steadying is the last process we need to accomplish. Hunting season can't come soon enough. Thanks for your excellent breeding. I couldn't be happier.
Ben Mey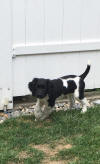 July 24, 2016
Don,
Just a quick note to let you know that Sonny is working out well. We are really enjoying having a dog back in the house. He is a lover and makes sure that everyone has an equal opportunity for puppy snuggling. I have started to take him into the woods for short walks, he is very curious and enthusiastic. I think we have a winner. During the "puppy search" I had a lot of help from a couple of Springer Enthusiast's. They understood that I wanted a nice dog from someone who hunts. After we agreed that you were the right choice, I started to focus on Pepper's litter. Getting a black & white male puppy from Pepper was perfect. I'll let you know how the training goes.
Thanks for everything,
Bruce Baker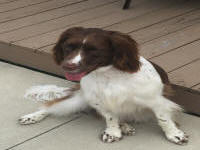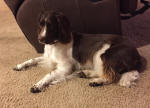 June 29, 2016
Don,
Here are some photos of Tiffin at two years old. She's simply a fabulous family member. Her temperament and personality couldn't be better. One day she's letting our 1-year old granddaughter pull her ears and the next day she's in the toughest brush flushing birds. Couldn't be more happy with her.
Aaron and Michelle Shipley
Lewis Center, OH.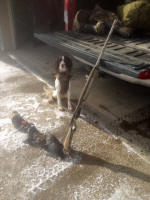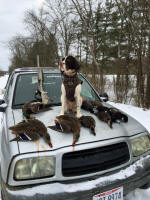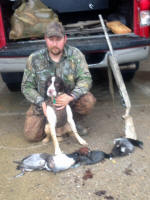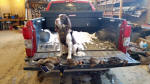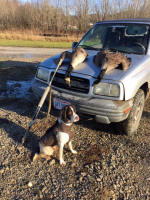 Don,
This is Ruger that we purchased from you in January 2013. He was the most amazing hunting partner anyone could ever ask for. He showed incredible drive and skill with both waterfowl and pheasant in the field, and was still able to be a gentle house dog with my 2 daughters. We were so impressed with him, that we were happy to come back to you for our second male springer. Thank you so much and keep up the good work.
The Cosper family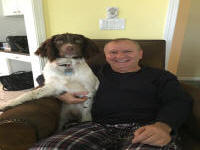 5/04/2016
Hi Don,
I am keeping you updated about Blaze we got from you in December, Blue Willow is his mom. Blaze is one amazing hunter, he is now 6 months old and we had our second quail hunt. He is finding, flushing and retrieving to the hand the bird. In the field people were amazed for a puppy that young to retrieve perfectly. Soon will introduce him to chuckars and pheasant after.He is on his way to be one serious hunting dog. Great breed, keep up the good work Don
Regards,
Joe Najm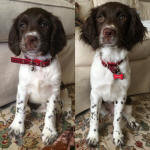 Don,
I wanted to send you an updated picture of our Annie. The one on the right is from our first day with her and the one on the left is from yesterday. We have had her two months now. She is the small one from Blue's litter. We have had her in puppy classes for the past three weeks. They people are very impressed with her and how smart she is. She does what ever they ask of her, they are having a group come check her out this week to see if she is a good candidate for Search and Rescue. They feel very strong that she is. I will keep you posted on that! Take care and thank you for such a great pup!
Nancy Conquest
December 7th 2015
Hi Don,
I just want to take the time to express my compliments to you on an outstanding experience in getting a puppy from you. You are so professional and compassionate about your puppies. We got the greatest puppy but more so enjoyed dealing with you. I would recommend so highly to anyone looking for that breed. We named our puppy "Blaze", I will send you pictures and he grows up and becomes a great hunter.
Thanks Don
Joe Najm
Strongsville, Ohio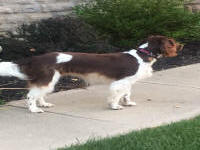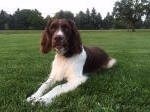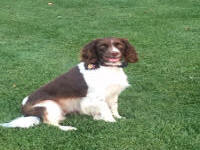 Don,
Thought we'd share some photos of Tiffin at 14 months. I had her in the field last week and she was fabulous. We just live everything about her.
- Aaron and Michelle Shipley
Hi Don.
The girls, Daisy and Lilly, are the best dogs ever! Both have their unique personalities for sure, but they're smart, great with people, and love to play and run. Daisy, the younger one, lives to chase anything and everything. She is all about throwing herself off the pier to retrieve toys - she puts everything into it! Next year were going to see about getting her into some dock jumping competitions.
Hope all is well with you. So glad we found you when we were looking for a springer!
Kelly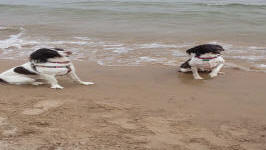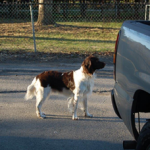 We thinks only issue is that he does not know that he is a springer or dog. Have to say he is a lover. Wants to meet everyone and offer them a kiss. 58 Bob.
Mr Hunter
We bought this female pup from you a year ago (2014) when we lived in Buffalo. We have now moved to Texas and our Springer has acres to run around our horse farm. But her favorite place is our swimming pool. Here is a video of her swimming 8' down to pick up her frisbee. Incredible dog. People are blown away when they see this video.
Enjoy
Don and Lori Darks
If video does not open click here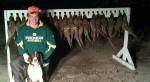 12/30/14
Here is my boy and our buddy, his name is buck. He was as good as it gets. Keep us posted on the new litters.
Thanks Bill Hilbert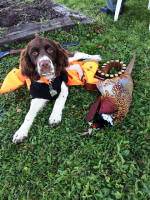 12/05/14
Hello, I have what I would call is Mr Miles grandson. I hope you don't mind my sending you a pic of his first pheasant this year. As you notice, he has the same look as Miles. We call him hunter at the time of this pic he is 5 months old. In Pa pheasant season, he was out 3 times flushing 7 birds, with 2 hrs each time. His mother, Abby, flushed 61 birds this season, our limit is 2 per day in Pa. Abby and Hunter are two of the best ESS I have ever had.
Thank for letting me share
Brian Baker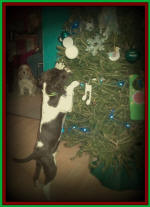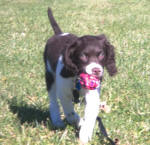 12/02/14
Don,
I hope all is well with you and your family. I just wanted to take the time to update you on the male springer we bought from you in September. Cosmo has more personality than we know what to do with some days :). He is mischievous, affectionate, and a constant source of entrainment. Recently, we bought a Christmas tree and he loves stealing the ornaments. Thank you so much for allowing us to adopt him. Our family wishes you a very Merry Christmas.
Thanks,
Chasity and Randy Channell
P.S. I attached a few pictures. I included a picture of our ornament robber.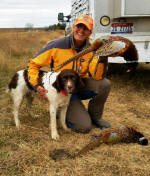 11/29/14
Here is a picture of Major at South Dakota this fall. The bird she is holding weighs more than 5 pounds. We are going to have it mounted. Carl was unable to go, so Major went on a two week hunting trip with our trainer. She had a funny story to tell about him. They were through hunting for the day and were talking at the end of a field they had hunted. The dog was loose and running around. The looked over at some cattails that were waving around and the fuzz coming off of them. A minute later Major came out with a live rooster in his mouth and brought it over to Cindy. He had a great time and went around the house looking for her and whining the day after she left. Once again thanks for a great dog!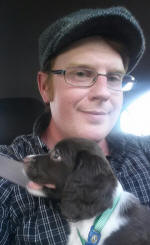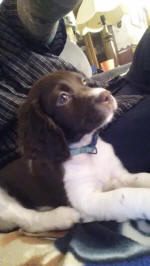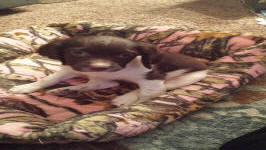 11/09/14
Hey man just wanted to let you know she did amazing on the way home and last night even slept in her new bed here are a few pics
thanks again.Greg
10/14/14
Just wanted to thank you again for providing us with such a great dog. Yesterday Carl took Major out hunting for the first time this season at Shepherd, Montana. Major flushed a pheasant but Carl couldn't tell if it was a hen or rooster. When the bird got out pretty far, Carl saw it was a rooster and shot but missed. He said Major came back and was barking at him. He thought maybe the shock collar had got stuck on, but it wasn't. He then realized that Major was scolding him for missing the bird. Carl thinks Major is the best hunting dog he has had. This is very high praise considering that our first springer, Duke, has never had any competition previously.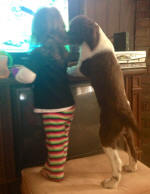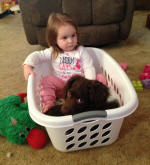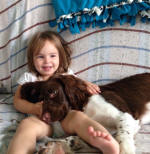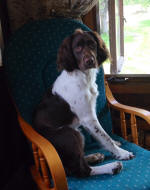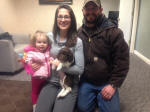 10/13/14
Don
Wanted to give you an update, the pup I got from you just finished her training and the trainer had nothing but great things to say about her. She was the first dog they took out with clients while they were training she was so good. They have asked me if they can use her during the year as their dogs wear down. I took her on her first hunt with me yesterday and she did great, ened up shooting 9 pheasants and 3 quail over her, I lost count of the number of other birds she flushed and we didn't get. Oddly she barks if she is tracking a bird.

Steve Breehl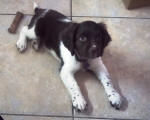 9/14
Darron A. Scott from Florida (puppy shipped via American Airlines) Here are the pictures of our new edition Cleo Scott. We love her so much. Enjoying her company and wish we would have found you guys sooner.
Thank You & God Bless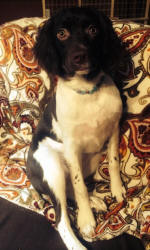 Willow is great. Very affectionate, loves to run in the field at our new house. Getting aquatinted with my sons horses. Loves to ride the tractor with me too. She weighs bout 30 lbs has long spindly legs and still not quite sure how to control them. She is my sidekick for sure. Love her to death. Thanks!
Happy Thanksgiving to you & your family. Diana
Thank you, thank you Mr. Hunter I love my dog. Gunner I am so happy with him. He is a beauty. I wish. I could get another. This is my first English springer and I love him. I will send you pics when he gets a little older.. I wish I would of bought 2 I love this dog. Thank you, He is worth every dime I spent for him.
Nancy Zajac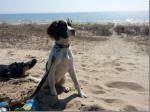 27 Apr 2013
Hi Don.
I just wanted to let you know that Lilly is doing great! She is the best puppy we've ever had. She was house broken in no time, has not destroyed anything in the house other than the squeakers in all of her toys, and she has sooooo much character! I received my AKC papers the other day, and after reading those I know she has some of those true Springer qualities - she is the ultimate "velcro" dog. If she's not pushing herself up against you while she's chewing her bone or sleeping, she's not happy :) She loves our outings to the dog park - and she likes to play with all the dogs, but especially the bulldogs. She is definitely eager to please, and hardly ever barks. She is great with retrieving already - balls, frisbees, etc. My son plans to take her hunting, and will be starting some training with her this summer. He has a buddy whose dad trains hunting dogs for a living, so I'm sure they will be spending time at his place this summer.
Thanks so much for letting Lilly be part of our family!
Kelly and Christian Wood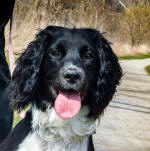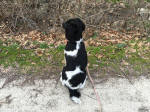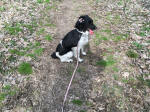 Friday, March 25, 2016
Don,
I have not written you since we have received "Lucy" in July. She has adjusted well to condo life; is healthy and full of energy. She is a very friendly to all, both humans and other dogs regardless of age or size. She has her mother's keen scent of smell and eyesight. Currently we take her of daily walks along the hike and bike trail in Cuyahoga Valley Nat'l Park. At least twice a week we walk over 7 miles. In addition, our condo borders on a small woods where she runs and explore wildlife.
Regards,
Ira and Margie Mellinger
Friday, March 25, 2016
Dear Don
Stewie is turning 9 on Monday and we want to thank you for selling us the most wonderful, loving dog, mild manner and most of all he is an excellent bird dog. We belong to Glastonbury fish and game. Pheasants are stocked from October to December. Stewie favorite time of the year. Stewie never fails to bring back a pheasant on hunting day. Next puppy for sure will be from Hunters Kennels.